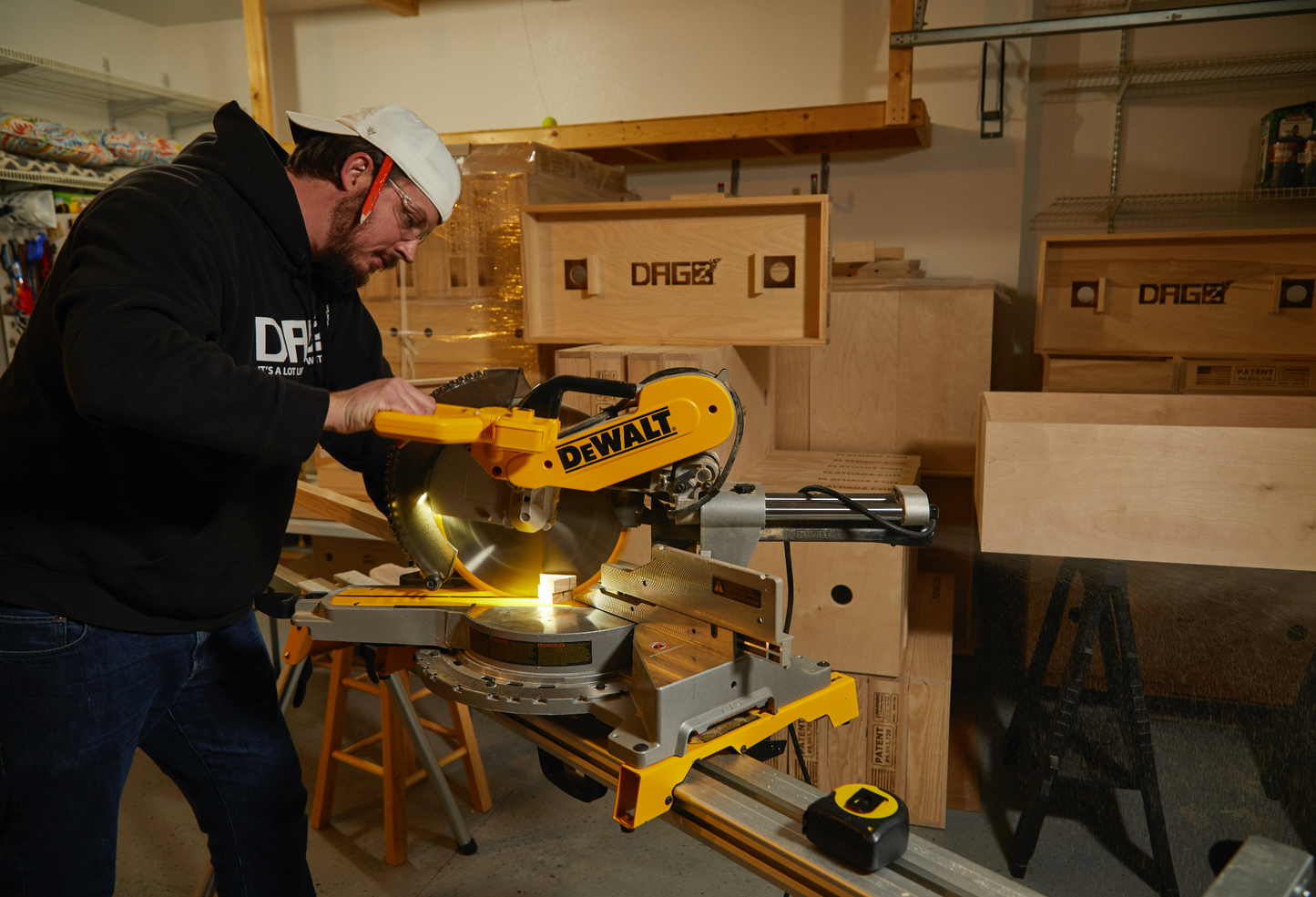 The Inspiration
Playing darts, pool, bags, and horseshoes with our friends has always been a blast. But we wanted to spice things up and create a new game that could bring us together in a unique way. That's why we came up with DAGZ: a tabletop party game with the energy of bags that can be enjoyed indoors or outdoor all year round. DAGZ has quickly become thousands of people's go-to party game, and we bet you won't be able to get enough of it!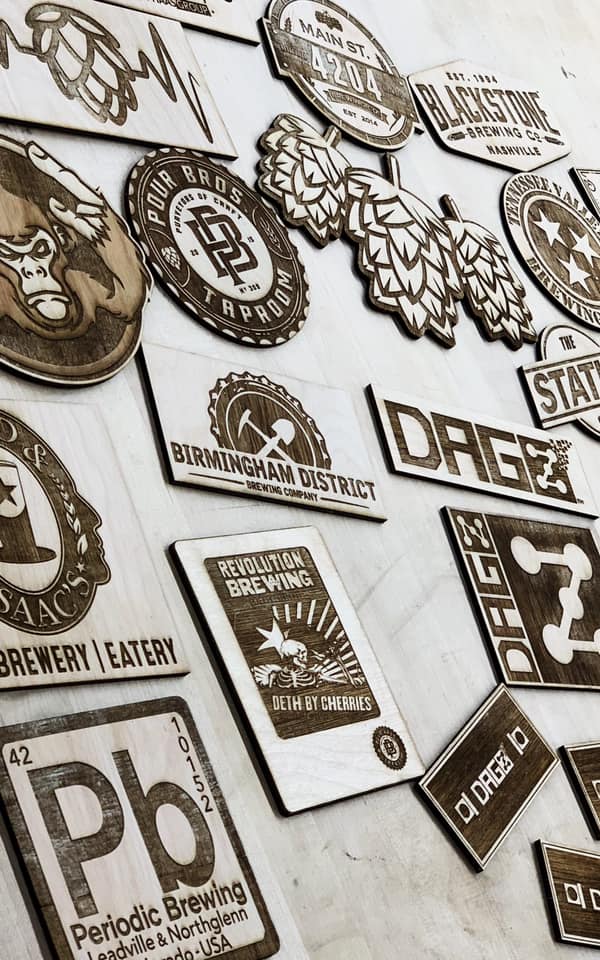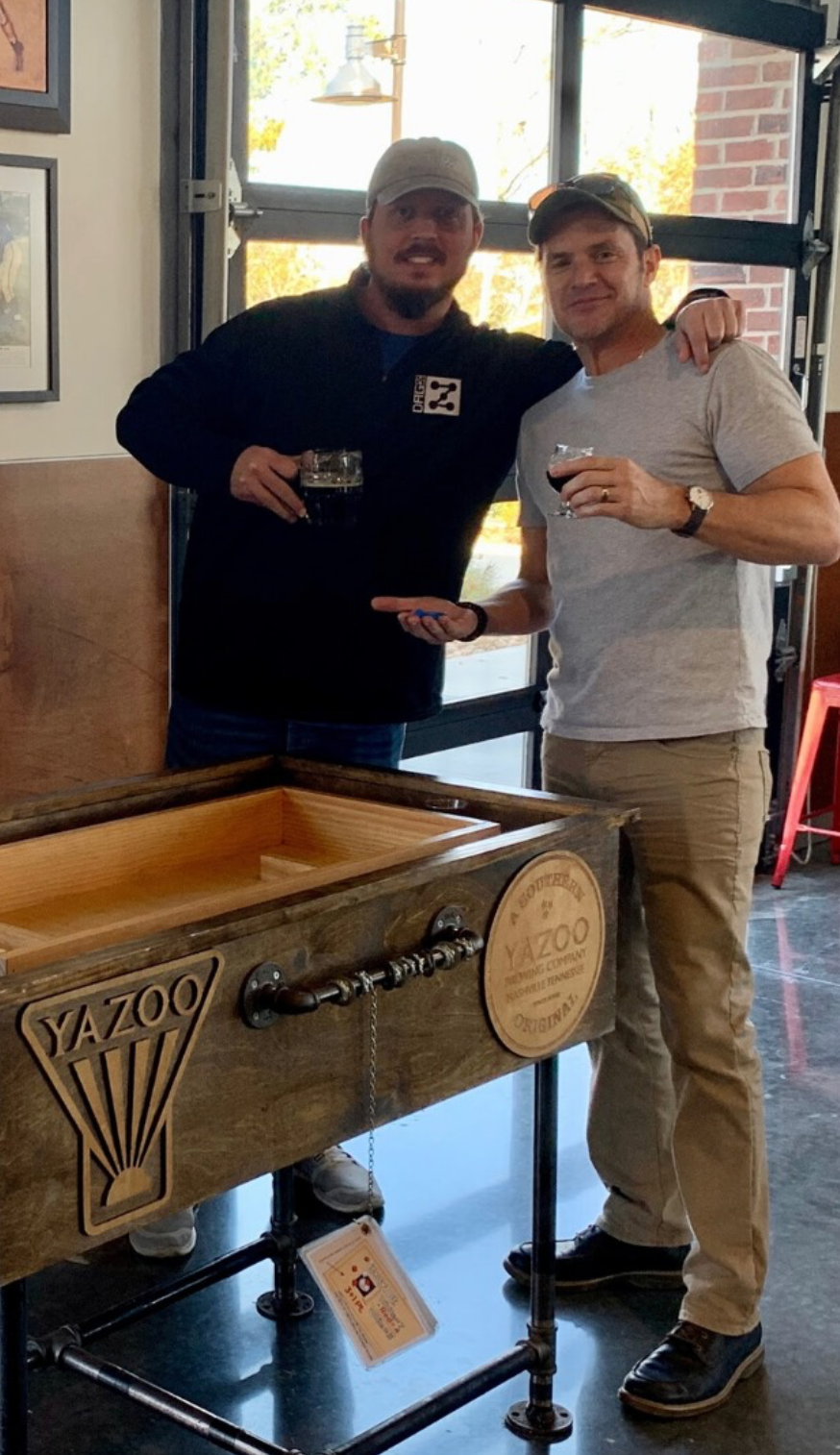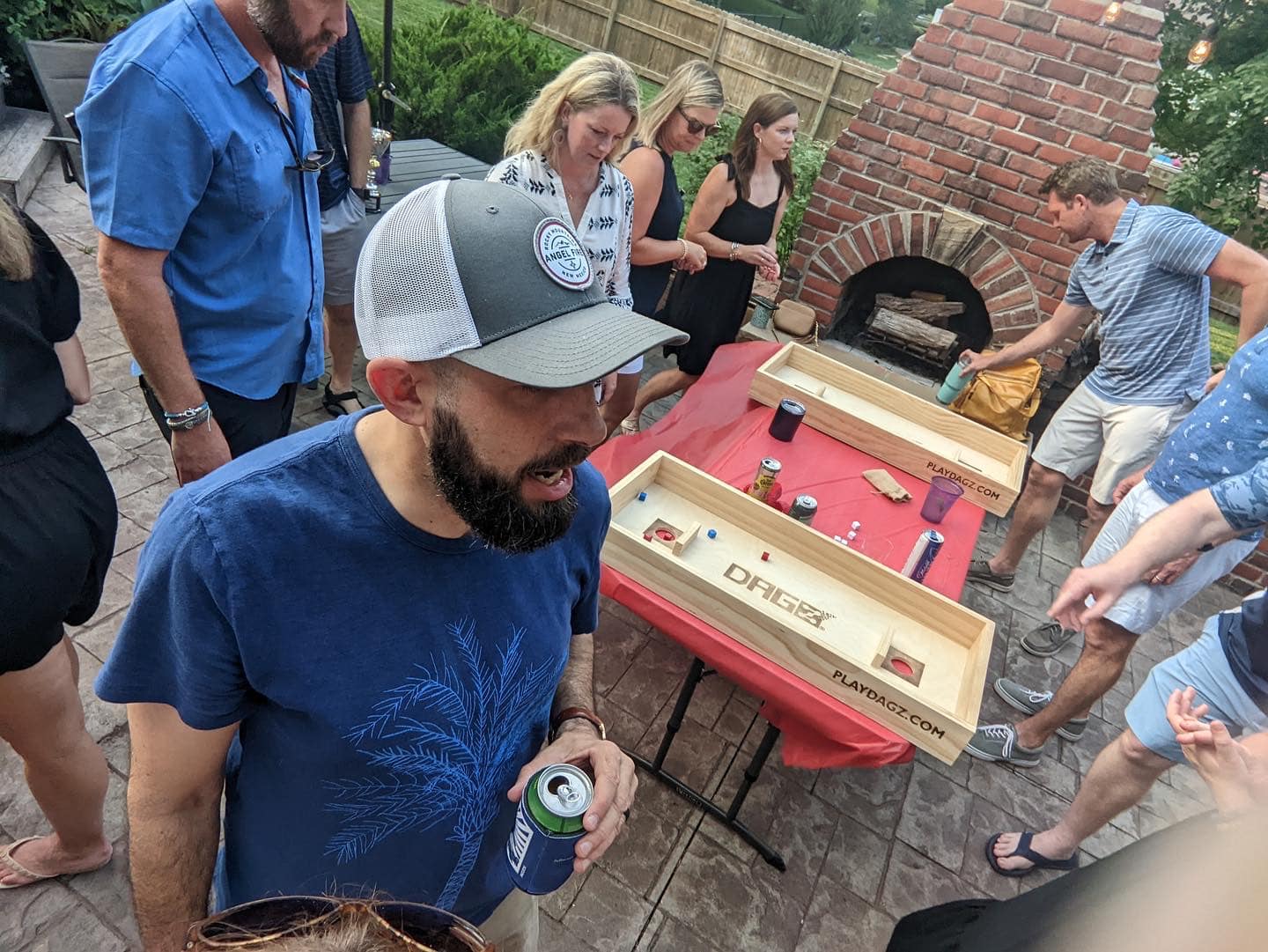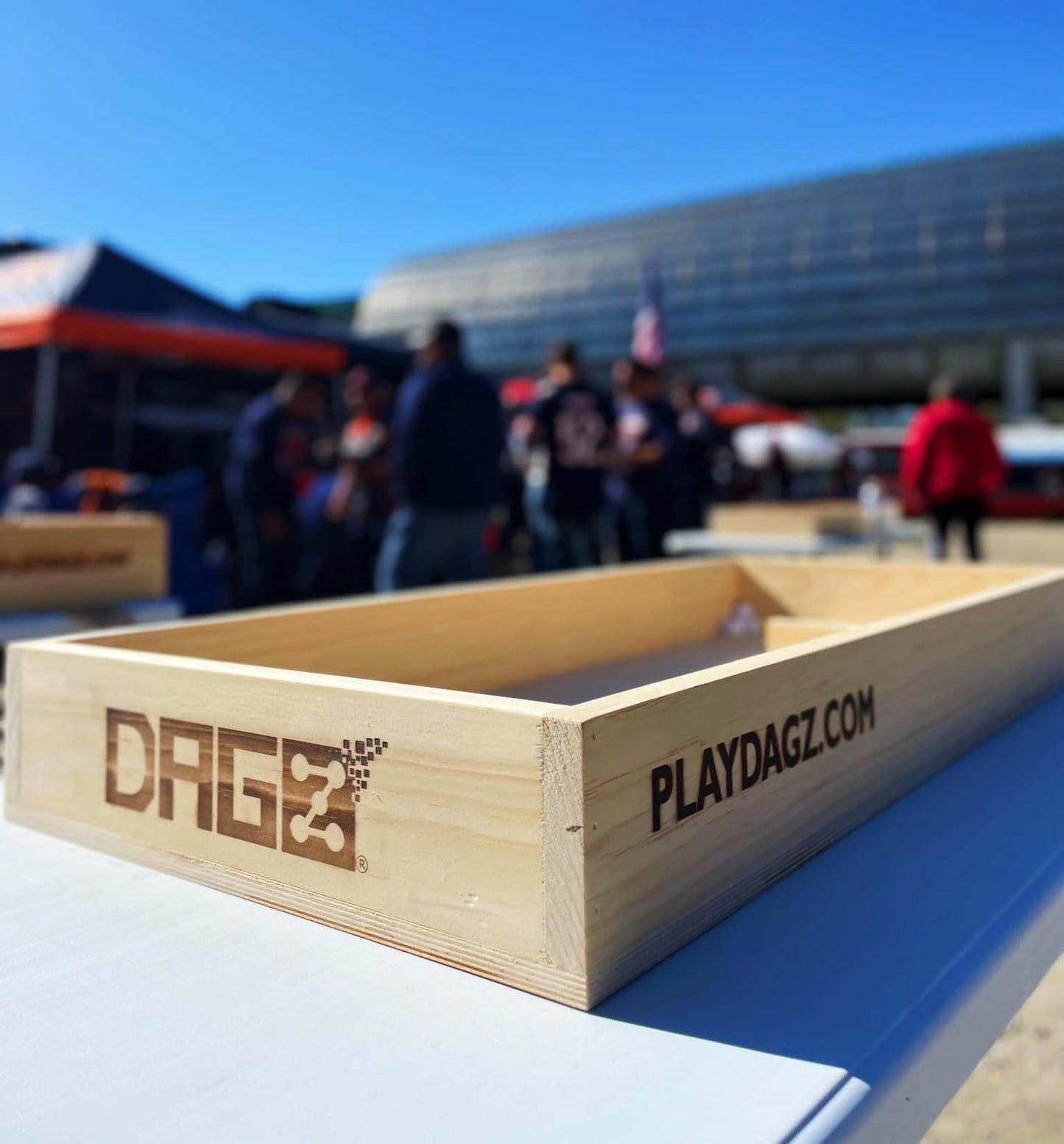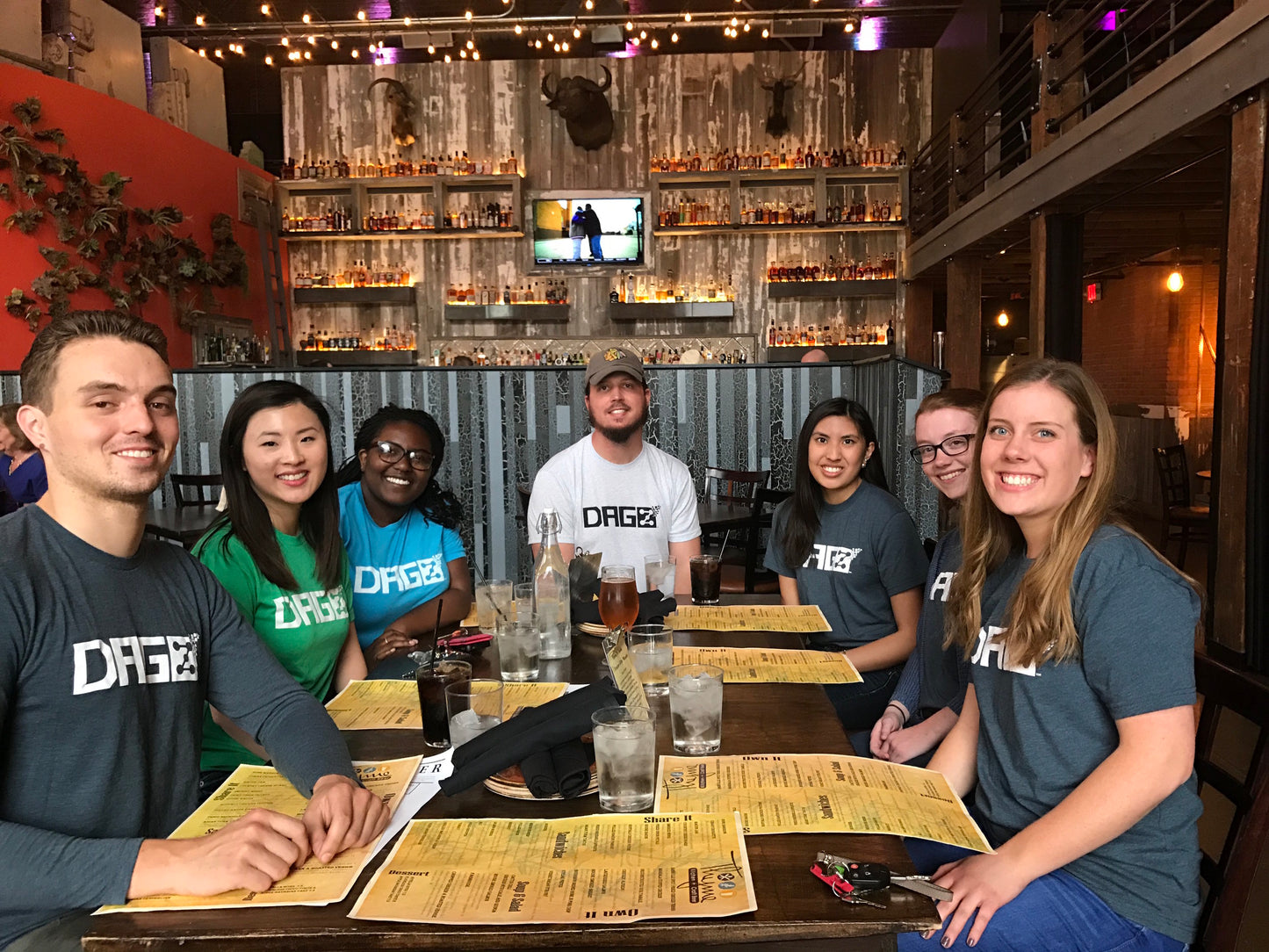 We Are DAGZ
Inspired by our love for outdoor games and the desire for something portable and fun, our team invented DAGZ – a game that embodies the competitive spirit of various outdoor games. We collaborated tirelessly to perfect the prototype, and once we started playing, we knew we had something special on our hands. With dedication and creativity, we filed for a patent and tested our prototypes with family and friends. During a family gathering, the name "DAGZ" was coined, perfectly capturing the essence of our game: Dice Angle Games. Experience the excitement and camaraderie of DAGZ, a game designed for social competition and enjoyment, indoors and outdoors alike!
Bringing Friends & Family Together
Whether it's in your home, at a tailgate, at a graduation party, in your dorm room, or your local watering hole, DAGZ brings people together to share in laughs and good times through a little competition.
DAGZ Gives BACK
At DAGZ, we believe in giving back to our community in Peoria, IL, and beyond. Through various initiatives and partnerships, we actively support local charities, organize fundraising events, and participate in community outreach programs. Our commitment to making a positive impact extends beyond our business, and we are dedicated to fostering a stronger, more inclusive community for everyone.
The DAGZ Story
BY CHRIS CARROLL, FOUNDER
Welcome to DAGZ, where innovation meets social competition! Our concept was born during a trip back from Riviera Maya, Mexico, filled with sun, music by the Zac Brown Band, and an unforgettable vacation experience.
I'm Chris Carroll, the Principal owner of DAGZ, and together with my family and friends, we share a passion for outdoor games like horseshoes, bocce ball, bean bags, can jam, beers-bee, spike-ball, and ladder ball. But it was those late nights, with halogen lights keeping the bean bag competition alive, that inspired us to create something new.
I WANTED SOMETHING THAT CAPTURED THE SOCIAL COMPETITIVE ASPECTS OF THE OUTDOOR GAMES WE ADORED, WHILE REMAINING PORTABLE AND SUITABLE FOR BOTH INDOOR AND OUTDOOR USE.
Shortly after returning from Riviera Maya, I enthusiastically started working on constructing the prototype for the game we now know and love as DAGZ. My wife, Jennifer, found it amusing and thought I was a little crazy as I tinkered away in the garage, claiming I had invented a game and was determined to make it a reality. Later that same evening, my brother-in-law Joe and sister-in-law Shannon came to visit. Initially, they were skeptical, but Joe decided to join me in perfecting the first prototype. He became intrigued and couldn't wait to give the game a try for the first time.  
ONCE WE STARTED PLAYING WE DIDN'T STOP UNTIL 4 HOURS LATER.
We had established the top two ranked players in the world, and unfortunately, as the game's inventor, I was defeated at my own creation. Joe held the number 1 spot, while I settled for number 2, though I did manage to win the first official game and earn a whopping $1.00.
The following day, as I woke up, I couldn't stop dreaming about the game's potential and whether others would enjoy it too. Over the next several weeks and months, I pursued filing for a patent and tested various prototypes with my family and friends. During this time, we were also on the lookout for the perfect name.
Finally, during a family gathering at my parents' house, my brother Mike and my nephew Mikey came up with the name DAGZ. I credit them both, as I'm not sure who truly had the idea first. The name was perfect, representing exactly what the game was all about - Dice Angle Games (DAGZ
We love DAGZ! We first played in a bar and had to have it. We have since convinced our friend group to all buy it as well.
Verified DAGZ Purchase
Such a fun compact game to keep the kids busy and adult fun at parties!
Verified DAGZ Purchase